*Newark Arts is not affiliated with these events (unless stated explicitly). For more info, please contact the venue directly.
Submit events using this form: SUBMIT EVENT

Arts Integration Professional Development Workshop for Educators
May 23 @ 8:30 am

-

3:30 pm

Pay What You Can
MOVING THROUGH MATH—Grouping Games for Teaching the Language of Mathematics.
Facilitator: Marcia Daft
During Grouping Games, students move around the room, create frozen body shapes, and work in groups to represent core concepts in K-6 mathematics. These experiences provide learners with strong kinesthetic, visual, and spatial representations of math. Students describe their work using sentence stems to strengthen their correct usage and understanding of mathematical language.
These learning experiences embrace the multiple intelligences, or multiple learning styles. This invites natural differentiation into the classroom. Students have the opportunity to experience math concepts through a wide range of learning modalities.
Musical Advenutrues: A Door to Writing

Facilitator: Marcia Daft
Music opens the imagination and helps students develop powerful sensory images that stimulate language and vocabulary development. In this participatory workshop, teachers explore how to use music to guide and enhance students' creative writing. Participants discover how this music-based process involves students in developing listening skills and visual imagery, brainstorming descriptive vocabulary, determining importance, establishing mood, and learning how to structure a story outline.
Course includes a Professional Development Certificate 
(6 PD credit hours), printed materials, catered breakfast and lunch.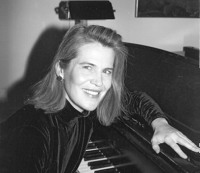 Marcia Daft
Marcia is the Founder and Director of Moving Through Math and Teaching the Music of Language. Her company produces award-winning videos, children's books, and instructional materials that bring arts-integrated learning to life at home and in the classroom. Marcia's unique teaching methods have been used in schools throughout the United States for twenty-five years. Ms. Daft is a national workshop leader for the John F. Kennedy Center for the Performing Arts; and traveled nationally and internationally as a Master Artist with the Wolf Trap Institute for Early Learning Through the Arts. Ms. Daft has also developed museum exhibitions and educational programs for the Smithsonian Institution. She has written more than twenty children's educational booklets with CD's for The Smithsonian Institution and the National Symphony Orchestra. Ms. Daft graduated Phi Beta Kappa in bio-medical engineering from Duke University. She was a Century Fellow at The University of Chicago, where she earned a Master's Degree in music. She studied piano performance at the Mozarteum in Salzburg, Austria, and holds both a Certificate and License in Dalcroze Eurhythmics – a technique of integrating music and dance. Marcia presents her work in both Spanish and English.
Related Events