*Newark Arts is not affiliated with these events (unless stated explicitly). For more info, please contact the venue directly.
Submit events using this form: SUBMIT EVENT

Arts Integration Professional Development Workshop for Educators
March 14 @ 8:30 am

-

3:30 pm

Pay What You Can
Paul Klee and Imagination- Painting with Music, Composing with Images
Facilitators: John Bertles and Carina Piaggio
This workshop explores the connections and commonalities between visual arts, music and dance through the lens of the famed Bauhaus painter Paul Klee. A talented violinist himself, Klee's paintings are filled with allusions to dreams, music, dance, and poetry. We'll discover the musical and kinesthetic elements in Klee's works, and then play around with some techniques to transform these elements into sound and movement. Extending sonic possibilities by building instruments from simple materials, we'll compose and perform music inspired by specific paintings, then transfer those concepts to dance by creating and performing choreographies based on Klee's works.
Course includes a Professional Development Certificate 
(6 PD credit hours), printed materials, catered breakfast and lunch.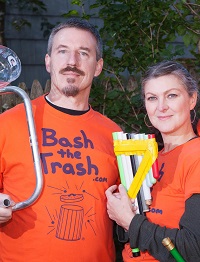 John Bertles and Carina Piaggio
Carina Piaggio and John Bertles are the husband-and-wife creative team behind Bash the Trash Environmental Arts, an educational and performing arts group consisting of over 30 musicians in New York, Boston, Detroit and Los Angeles. Bash the Trash builds, performs and educates with musical instruments made from recycled and reused materials, embodying concepts of sound, science and sustainability and reaching over 60,000 audience-members annually. Bertles is a composer, instrument-builder and a professional development workshop leader with the John F. Kennedy Center for the Performing Arts, nominated for a Drama Desk Award for Best Orchestration for instruments created for the Tony-Award winning musical "Once on This Island". Piaggio is a choreographer, director and composer, co-winner of the MAX Prize (The Spanish "Tony") and a New York Foundation for the Arts Fellow. Between them, Piaggio and Bertles have received eight ASCAP Plus Music Awards for Songwriting for Children's Music.
Related Events