NA Sponsored Spotlight Event
Open Doors Kids
Open Doors Studio Tour
Live Performance
Accessible Facility
NA Sponsored Spotlight Event
Open Doors Kids
Open Doors Studio Tour
Visual Arts
Poetry
Film
Live Performance
Accessible Facility

Murals and Mojitos Public Art Tour
Newark Arts
Saturday, October 12 | 12PM–3PM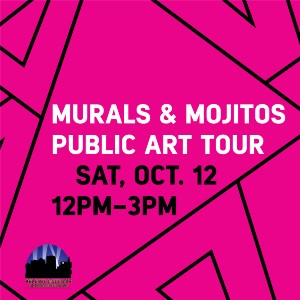 Newark Arts presents Murals and Mojitos Public Art Tour
Our annual VIP Bus Tour of Newark's Public Art & Historic Neighborhoods featuring stunning public art, conversations with the muralists, post-tour cocktail reception at the Raw Umber Exhibit at Nico and complimentary swag bag.
Meet at One Theater Square Pop Up, 2 Center Street, Newark, NJ 07102
Check in: 11:30AM | DEPART AT 12 PM, RETURN BY 2PM
Tour Curator: Frequent curator with New Jersey galleries, Jo-El Lopez
Hosted by: Long time Newarker and Influencer, Khalil Chaneyfield Nass
Post-Tour Reception at Nico Kitchen + Bar, NJPAC, One Center Street, Newark, NJ 07102
Featuring Raw Umber, curated by Gallery Aferro
Special thanks to ELMART Theatre Service
For adults 21 and over.
For info: ruby@newarkarts.org | 973-679-1842
Supported in part by a grant from NJ Department of State, Division of Travel and Tourism.