NA Sponsored Spotlight Event
Open Doors Kids
Open Doors Studio Tour
Live Performance
Accessible Facility
NA Sponsored Spotlight Event
Open Doors Kids
Open Doors Studio Tour
Visual Arts
Poetry
Film
Live Performance
Accessible Facility

A Call to Peace
New Arts Justice and Monument Lab
Thursday, October 10 | 12PM-1PM
Friday, October 11 | 12PM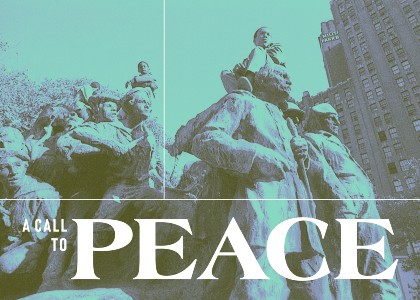 Opening Reception: Thursday, October 3, 4PM-6PM
Closing Reception: Monday, November 11
Curated by: New Arts Justice and Monument Lab
Featured Artist(s): Chakaia Booker, Manuel Acevedo, Jamel Shabazz, Sonya Clark
The New Arts Justice Initiative at Rutgers University - Newark presents A Call To Peace, presented in Newark's Military Park, opening October 3rd, 2019, and running through Veterans Day on November 11th, 2019. Curated by Paul Farber, the artistic director of Monument Lab, the exhibition features renowned artists Manuel Acevedo, Chakaia Booker, Sonya Clark, and Jamel Shabazz. Conceiving of this project after learning about the racially contentious history of the Ku Klux Klan member Gutzon Borglum's 1926 Wars of America monument that dominates the park, New Arts Justice Director Salamishah Tillet asked each artist to respond to the urgent question: What is a timely monument for the city of Newark?
Alongside their installations, New Arts and Monument Lab will open a research pavilion where passersby will be encouraged to contribute their own monument proposals. The responses will be added to an open database, posted on a community board in Express Newark, and shared as a report to the city in 2020. New Arts Justice invites students, educators, artists, community activists, and the general public to discuss issues addressed by A Call To Peace through a series of Thursday talks and public forums at The Lab at Military Park with critical members of Newark's community (artists, historians, organizers) who are actively working in the fields of history, commemoration, and preservation.
"Monumental Conversation: Curating Art, Creating Histories" with Jasmine Wahi, Founder and Co-Director, Project For Empty Space and Adrienne Wheeler, Curatorial Advisor for Newark Arts Festival.
"Cam Up Public Art Happening at Wars of America Monument" with Manuel Acevedo.
Supported in part by a grant from NJ Department of State, Division of Travel and Tourism.