NA Sponsored Spotlight Event
Open Doors Kids
Open Doors Studio Tour
Live Performance
Accessible Facility
NA Sponsored Spotlight Event
Open Doors Kids
Open Doors Studio Tour
Visual Arts
Poetry
Film
Live Performance
Accessible Facility

HYBRID: An Interactive Experience Fusing the Arts
Greater Newark Conservancy/ Chiffani PR, a Chiffani Brand
Thursday, October 10 | 6PM-8PM
Friday, October 11 | 6PM-8PM
Saturday, October 12 | 2PM-8PM
Sunday, October 13 | 12PM-4PM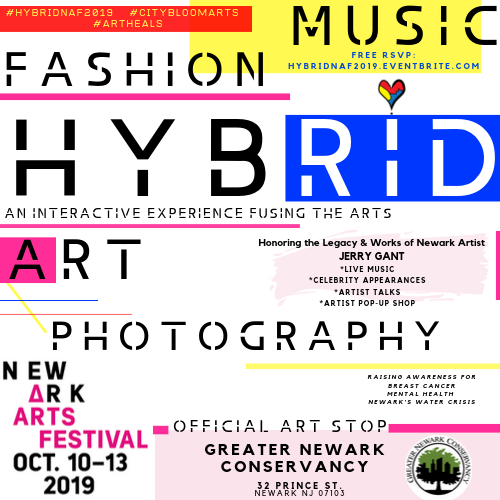 Opening Reception: Thursday, October 10, 6pm-8pm
Curated by: Tiffany Salas, Christyna Gordon, Dolo Foto, Dwayne Wilkins
Featured Artist(s): Art, Photography, Fashion, & Music exhibitions & moderated panel discussions with celebrated artists of Newark, national & international.
HYBRID
An Interactive Experience Fusing the Arts
at Greater Newark Conservancy
HYBRID showcases & highlights the works of Artists in different creative industries ranging from:
Art ------- Music ------- Photography ------ Fashion
Come and experience the works, meet the Artists, and don't miss the Q&A Artist Talks & Artist Pop Up Shop!
The diverse artists meticulously selected for this curated exhibition gloss their industries with innumerable accolades and career highlights.
Live Music by The Collectives, celebrity appearances & more!
For the full HYBRID schedule visit us & check for more updates on social media!
@citybloom87 @chiffanibrands
Supported in part by a grant from NJ Department of State, Division of Travel and Tourism.