NA Sponsored Spotlight Event
Open Doors Kids
Open Doors Studio Tour
Live Performance
Accessible Facility
NA Sponsored Spotlight Event
Open Doors Kids
Open Doors Studio Tour
Visual Arts
Poetry
Film
Live Performance
Accessible Facility

Brick City Collective & Friends: Poetry Showcase & Open Mic
Brick City Collective
Friday, October 11 | 5PM-7PM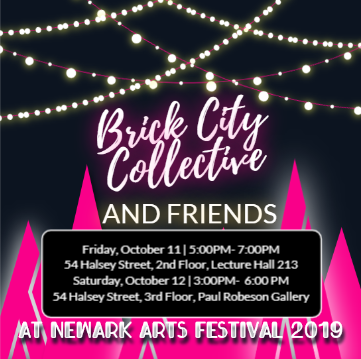 Featured Artist(s): Dimitri Reyes, paulA neves, Marina Carriera, Cindy Goncalves, Roberto Carlos Garcia, Positive Gunter, Tamar Samuel- Siegel, David Nazario, Stacey Williams (Concerned Conviction)
The Newark Arts 2019 theme of "The Year of the Woman" will be an extension of the Brick City Collective readings that are hosted variously throughout the year. We offer a safe space for our audience members and participants to talk poetry but we also dig deeper into the spaces that we are writing in such as the POC and Queer experiences.
With a sensitivity and understanding of the female/ queer body, all members of BCC have work that deals with gender, feminism, and womanism. For the Newark Arts Festival, our performances will be a reading where Brick City Collective, friends, and Newark Arts attendees will have the chance to listen to some of our newest work on these subjects and more! These will be our entry points to discuss and enjoy the spoken art that is poetry.
During the event, there will be a sign up sheet available for the open mic segment.
Supported in part by a grant from NJ Department of State, Division of Travel and Tourism.