NA Sponsored Spotlight Event
Open Doors Kids
Open Doors Studio Tour
Live Performance
Accessible Facility
NA Sponsored Spotlight Event
Open Doors Kids
Open Doors Studio Tour
Visual Arts
Poetry
Film
Live Performance
Accessible Facility

Wonder Woman Champagne Brunch
Newark Arts
Saturday, October 12 | 10AM-12PM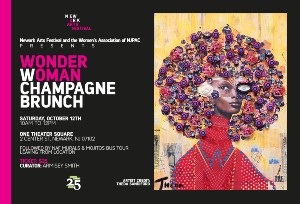 Curated by: Armisey Smith
Featured Artist(s): Sybil Archibald, Anonda Bell, Caren King Choi, Joan Cummings, Maria Luis Estrella, Donna Conklin King, Ellen Lambert, Sarah Langsam, Beverly A. McCutcheon, Ruth Neustadter, Nell Painter, Luisa F. Pinzon Romero, Theda Sandiford, Danielle Scott, Ameerah Shabazz, April Tracey, Mary Young
A Sophisticated late morning cocktail reception with the leading women in the arts and culture community. Centering the space will stand multi tiered buffet table, passed cocktails flowing throughout the space, all accompanied by a live harpist.
When guest check-in - they will be paired with a trained art Collector/ Artist or Art Educator to travel the space and expand their knowledge of the art, the value of collecting and art appreciation.
Supported in part by a grant from NJ Department of State, Division of Travel and Tourism.