NA Sponsored Spotlight Event
Open Doors Kids
Open Doors Studio Tour
Live Performance
Accessible Facility
NA Sponsored Spotlight Event
Open Doors Kids
Open Doors Studio Tour
Visual Arts
Poetry
Film
Live Performance
Accessible Facility

International Music and Culture Festival
Newark School of the Arts
Saturday, October 12 | 11AM-3PM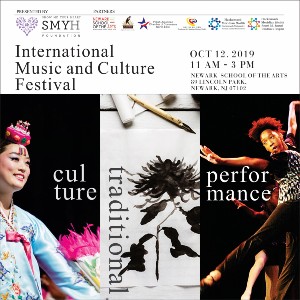 Curated by: Show Me Your Heart Foundation
Featured Artist(s): Various
Newark School of the Arts (NSA) presents the First International Music and Culture Festival in the Lincoln Park community bringing together Music, Dance, and Visual Arts from different cultures around our city and beyond.  The event is sponsored by the Show Me Your Heart Foundation, supporting children globally through the international language of music and the arts; Heather Choi, President. The festival will take place Saturday, October 12, 2019 in the Newark School of the Arts Campus located at 89 Lincoln Park, Newark New Jersey from 11 am to 4 pm and will feature performances from Korea, Poland, Brazil, India, Argentina, Dominican Republic and other cultures represented in the Newark School of the Arts student body as well as in our city.  There will be food and other vendors, crafts for kids, a traditional dress booth where people can try on traditional costumes, and activities for the whole family.  The event will also feature an art exhibit featuring student-created works inside the school open all day and a free Music and Movement parent and child class at 10 am. The festival is free and open to the public. 
 The event is presented as part of the Newark Arts Festival.
Supported in part by a grant from NJ Department of State, Division of Travel and Tourism.