NA Sponsored Spotlight Event
Open Doors Kids
Open Doors Studio Tour
Live Performance
Accessible Facility
NA Sponsored Spotlight Event
Open Doors Kids
Open Doors Studio Tour
Visual Arts
Poetry
Film
Live Performance
Accessible Facility

Black Media Story Summit-NJ
Black Public Media/Dodge Foundation/Newark Arts Festival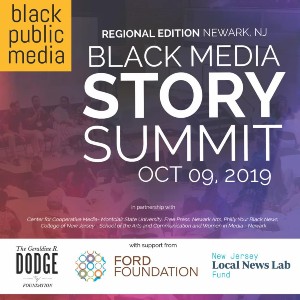 Opening Reception: Wednesday, October 9, 2019 | 10AM - 5PM
Curated by: Black Public Media
Celebrating its 40th anniversary supporting diverse voices by developing, producing, and distributing innovative media about the black experience and by investing in visionary content makers, Black Public Media will gather the pulse of the others in the industry who are committed to black story content across platforms.
The mini summit follows a successful national summit held in April 2018 at Google's New York headquarters and brought together 100 guests, including content creators of color, foundations, tech, distributors, and social justice leaders for a full-day of collaboration and discussion on creating new strategies to support diverse black stories from development to distribution. We are now planning a year of programming across the country to continue the conversation and galvanize local efforts to amplify black stories.
The Black Media Story Summit-NJ will be Wednesday, October 9th co-presented by Black Public Media, Dodge Foundation and the Newark Arts Festival, a lead-up event to the festival. BMSS-NJ will have the same format as the national one and is sponsored by the Corporation for Public Broadcasting and the New Jersey Local News Lab, a partnership of the Geraldine R. Dodge Foundation, Democracy Fund, and Community Foundation of New Jersey. Venue is TBA. Register for the summit at the RSVP link.
Supported in part by a grant from NJ Department of State, Division of Travel and Tourism.