NA Sponsored Spotlight Event
Open Doors Kids
Open Doors Studio Tour
Live Performance
Accessible Facility
NA Sponsored Spotlight Event
Open Doors Kids
Open Doors Studio Tour
Visual Arts
Poetry
Film
Live Performance
Accessible Facility

Let Artists Be Poetry Slam
EvoluCulture
Sunday, October 13 | 7PM-11PM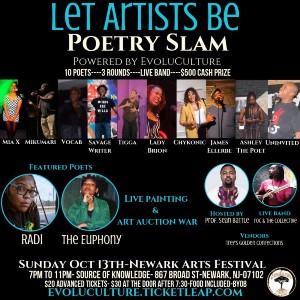 Featured Artist(s): FEATURED POETS: RADI, The Euphony
SLAMMERS: Mia X, Mikumari, Vocab, Savage Writer, Tigga, Lady Brion, ChyKonic, James C Ellerbe, Ashley The Poet, Uninvited
VISUAL ARTISTS: Andrece Brady, Jay Golding, Rushelle Peterkin
Hosted by Prof. Sean Battle
Live Music by Roc & The Collective
As part of the Newark Arts Festival, EvoluCulture Arts Entertainment presents its second installment of the #LetArtistsBe Poetry Slam (a.k.a L.A.B Slam 2). 10 poets were chosen to compete in a three-round bout with the third round including a live band performing with the poets. The winner will receive a $500 cash prize. We will also have a live painting & Art Auction War where the artist who sells their piece for the highest amount wins an additional $200.
Finally in a Double Feature, witness 2018 Nuyorican Grand Slam Champion and winner of the first L.A.B. Slam, RADI, and the multidisciplined/multidimensional poet/rapper/singer from NJPAC Sounds of the City and Lincoln Park Music Festival, THE EUPHONY.
SLAMMERS: Mia X, Mikumari, Vocab, Savage Writer, Tigga, Lady Brion, ChyKonic, James C Ellerbe, Ashley The Poet, Uninvited
VISUAL ARTISTS FOR AUCTION WAR: Andrece Brady, Jay Golding, Rushelle Peterkin
HOST: Sean Battle
LIVE BAND: Roc & The Collective
Supported in part by a grant from NJ Department of State, Division of Travel and Tourism.