NA Sponsored Spotlight Event
Open Doors Kids
Open Doors Studio Tour
Live Performance
Accessible Facility
NA Sponsored Spotlight Event
Open Doors Kids
Open Doors Studio Tour
Visual Arts
Poetry
Film
Live Performance
Accessible Facility

The Faces of Link
Link Education Partners and Link Community Charter School
Thursday, October 10 | 4:30PM-6:30PM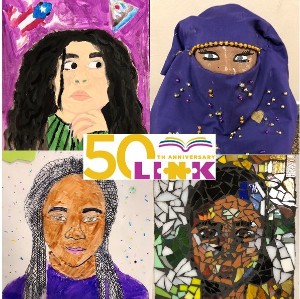 Opening Reception: Thursday, October 10, 4:30PM-6:30PM
Curated by: Ms. Gwen Howard, artist and Link's arts educator
Featured Artist(s): Selection of students from Link's, class of 2019, class of 2020, class of 2022, and class of 2023
During the 2019 Newark Arts Festival "Year of the Woman" and as Link enters its 50th anniversary year in 2019-2020, it is only fitting that Link pays homage to its founding mothers and the diversity of individuals, who have helped us reach this milestone year. Since 1969, Link's school leaders and arts educators, many of whom have been trailblazing women, have nurtured the artistic talents of thousands of youth who have continued to expand their artistic talent beyond Link and have contributed to the vibrancy of the arts community locally, regionally and nationally. Building upon this legacy, Link will host an exhibition, "The Faces of Link", on Thursday, October 10, 2019 from 4:30 PM to 6:30 PM for art lovers of all ages.
"The Faces of Link" exhibition will showcase artwork created by current students at Link Community Charter School and recent alumni under the direction of Ms. Gwen Howard, artist and Link's arts educator. The student artwork has been inspired by an exploration of self as the students created self-portraits (pop art, sketches, drawings, and paintings), masks (cardboard and papier-mâché), and other projects. Also, on display will be works submitted by alumni and works created through our electives program with local arts organizations and artists, such as glass mosaic self-portraits with GlassRoots.
Drop-in art sessions will be provided for youth and families, such as drumming and arts activities.
Supported in part by a grant from NJ Department of State, Division of Travel and Tourism.