NA Sponsored Spotlight Event
Open Doors Kids
Open Doors Studio Tour
Live Performance
Accessible Facility
NA Sponsored Spotlight Event
Open Doors Kids
Open Doors Studio Tour
Visual Arts
Poetry
Film
Live Performance
Accessible Facility

Her Mind
Come Unity
Thursday, October 10 | 6PM-9PM
Friday, October 11 | 4PM-5PM
Saturday, October 12 | 4PM-6PM
Sunday, October 13 | 3PM-5PM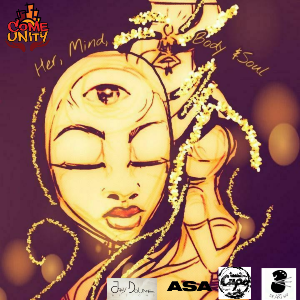 Opening Reception: Thursday, October 10 | 6PM-9PM
Featured Artist(s): Come Unity Team - @1comeunity, Ayana Kareem - @ayanakareemart, Laura Cole - @Sundaze_moonrays_ , Ryessa Grant - @cupsceo, Eleven - @11realizedcouches, Suliman Onque - @slimsuliart_world, Jay Doune - @jay_doune_12, Artists Supporting Artists -@asa.nwk, Keiona Josey - @freakquencee, Madeline Pugh - @bymaddz, Matthew Desheilds- @yotopshot
Come Unity seeks to shed light on all the things that make our community so beautifully complex. Come Unity is a call to action to form genuine connections and a sustainable union that supports and inspires. As a collective we organize art centralized events that work towards the empowerment and healing of our community.
"Her"- a summation of her experiences, her truth. "Her captures and highlights the essence of a woman in all of her glory.
"Her Mind" expansive, ever evolving, rooted to this earth, connected to beyond. The playground of all her dreams, gatekeeper to her secrets.
10/10 6PM-9PM: Live Painting
10/11 4PM-5PM: Demo
10/12 4PM-6PM: Poetry Corner
10/13 3PM-4PM: Artist Q&A
4PM-5PM: Demo
Supported in part by a grant from NJ Department of State, Division of Travel and Tourism.