NA Sponsored Spotlight Event
Open Doors Kids
Open Doors Studio Tour
Live Performance
Accessible Facility
NA Sponsored Spotlight Event
Open Doors Kids
Open Doors Studio Tour
Visual Arts
Poetry
Film
Live Performance
Accessible Facility

For the Love of Women in House
Ubiquity Soul
Friday, October 11 | 5PM-10PM
Saturday, October 12 | 2PM-10PM
Sunday, October 13 | 1PM-6PM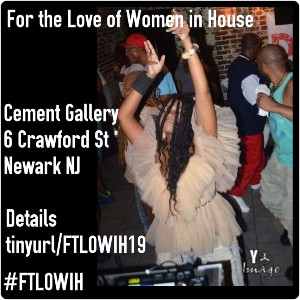 Opening Reception: Friday, October 11, 6PM-9PM
Curated by: Jojo Abenaavi Wright
Featured Artist(s): Jojo Abenaavi Wright, Shanã Webb, Angela Williams, Jamara Wakefield, Jonathan Collins, R. Anthony Morrison, Micelle A. Brady, YoRel Da Mediaographer, Koffee Paige TheFloetress, Mark Francis, Montana Monti (Spirits in Motion), Nadeeah Eshe (Spirits in Motion), Tim Wise
For the Love of Women in House, curated by Jojo Abenaavi Wright resident dancer of Ubiquity Soul!
Women in House is a multi media showcased presented through the eyes of a collective of artists from the house community. Join in on our interactive performances throughout the weekend, share with us in the circle during a dance session, and drop in on a dance lesson. House is more than music to many ... It is a lifestyle! It is a release! It is a life saver! It is home! It is freedom! It is a spiritual thing! Come experience the power of women in house!
Supported in part by a grant from NJ Department of State, Division of Travel and Tourism.