NA Sponsored Spotlight Event
Open Doors Kids
Open Doors Studio Tour
Live Performance
Accessible Facility
NA Sponsored Spotlight Event
Open Doors Kids
Open Doors Studio Tour
Visual Arts
Poetry
Film
Live Performance
Accessible Facility

A New Domestics: East Coast/West Coast
Hillier College of Architecture and Design Gallery, NJIT campus
Friday, October 11 | 6PM-9PM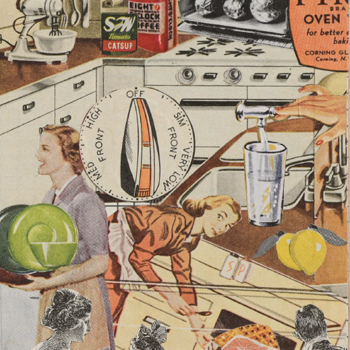 Opening Reception: Monday, October 7, 6PM-9PM with live entertainment
Closing Reception: Sunday, November 17 from 1PM-4PM with artist talk
Curated by: M. Gosser and Gail Enns
Featured Artist(s): Pamela Becker, Elizabeth Kuny, Lisa Sanders, Wonju Seo, Geri Hahn, Diane Savona, Susan Abbott Martin, Maria Porges, Judy Shintani, Lisa Soloman, the Temple Sisters and Victoria May. Storefront artist: Amanda Thackray
The New Domestics: East Coast/West Coast is an exhibition featuring the artwork of six Greater New York female artists alongside six California female artists. Ideas of domesticity are explored in several ways. The first is in subject matter and how particular content or depiction speaks to domestic issues. The second is in technique and how an artists uses embroidery, basket weaving, knitting, etc. to explore domesticity. Finally, artists conceptualize aspects of the domestic experience as expressed in their own personal artwork.
Artists include: Pamela Becker, Elizabeth Kuny, Lisa Sanders, Wonju Seo, Geri Hahn, Diane Savona, Susan Abbott Martin, Maria Porges, Judy Shintani, Lisa Soloman, the Temple Sisters and Victoria May.
The Hillier College of Architecture and Design at NJIT offers professional degrees in architecture, infrastructure planning, interior design, industrial design and digital design.
Storefront installation by Amanda Thackray.... Porifera
Supported in part by a grant from NJ Department of State, Division of Travel and Tourism.