NA Sponsored Spotlight Event
Open Doors Kids
Open Doors Studio Tour
Live Performance
Accessible Facility
NA Sponsored Spotlight Event
Open Doors Kids
Open Doors Studio Tour
Visual Arts
Poetry
Film
Live Performance
Accessible Facility

Hear Her Roar: An Evening of Performance Art
Daryl Stewart Productions in collaboration with Newark Symphony Hall*
Saturday, October 12 | 7PM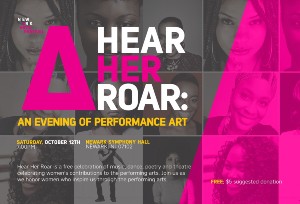 Curated by: Daryl L. Stewart, Executive Producer/Director
Featured Artist(s): FEATURING:
Lynn Irby, Actress/Speaker
Porche Hardy, Singer/Actress
Erika Hicks, Singer/Actress
Rhyan Faith, Singer/Actress
Maxine Lyle, Dance/Choreographer
Bianca Arielle, Poet/Singer/Writer
Shelly, DJ/Performance Artist
Positive, Poet/Actress
Nikkia Tyrie, Dancer/Educator
Purple Haze, Host/MC
With Narration by MJ Rodriguez, Actress/Singer
*Please note that all artists and acts are subject to change at any time.
On October 12 at 7p.m., join Newark Arts, Newark Symphony Hall, theatre artist Daryl L. Stewart + an all female ensemble of performing artists in a celebration of music, poetry, prose, dance and theater honoring the power, the strength, the magic and the spirit of women. Hear Her Roar: An Evening of Performance Art will feature classic excerpts and dramatic readings as well as dance, theatre and music performances honoring the works of artists like Nikki Giovanni, Toni Morrison, Ntozake Shange and Maya Angelou and more. Hear Her Roar is a one night only event and is part of the official 2019 Newark Arts Festival. Developed & Directed by Daryl L. Stewart.
Supported in part by a grant from NJ Department of State, Division of Travel and Tourism.