NA Sponsored Spotlight Event
Open Doors Kids
Open Doors Studio Tour
Live Performance
Accessible Facility
NA Sponsored Spotlight Event
Open Doors Kids
Open Doors Studio Tour
Visual Arts
Poetry
Film
Live Performance
Accessible Facility

Climate Change Is Real: Bloom Where You're Planted
Newark Women In Film
Friday, October 11 | 7PM-10PM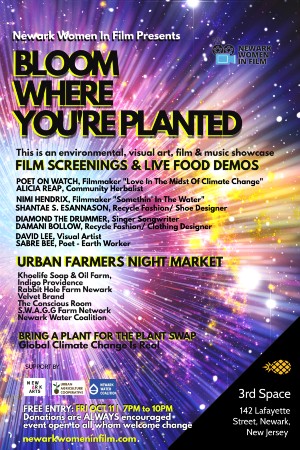 Opening Reception: Friday, October 11, 7PM-8PM
Curated by: Newark Women In Film
Featured Artist(s): Alicia Reap, Poet On Watch, Nimi Hendrix, Damani Bollow, Khoelife Soap & Oil Farm, Indigo Providence, Rabbit Hole Farm Newark &
The Urban Agriculture Cooperative
Climate change is real! Newark Women In Film and Newark Arts Festival team up to bring you an evening of art, film, and earth activism. Love - for the planet and one another - is the message of the evening.. Take risks, make connections, and bring a plant for the plant swap.This is an environmental, visual art, film & music showcase. Come prepared to grow as we turn our hard times into fertile ground for the kind of world we would like to live in.
Community Herbalist Alicia Reap
"Heal Your Body with Plants & Dry Herbs"
Poet On Watch, Filmmaker & Poet
"Love In The Midst Of Climate Change"
"Ms. Marie Road House Photo Exhibition"
Nimi Hendrix, Filmmaker -
"Somethin' In The Water"
Diamond The Drummer
Singer Song Writer & Percussionist
Damani Bollow - Fashion Designer
Learn how to recycle your gear to new
Urban Farmers Night Market:
Khoelife Soap & Oil Farm,
Indigo Providence
Rabbit Hole Farm Newark &
The Urban Agriculture Cooperative
Do you want to learn about growing your own food? Do you want to know what you personally can do to heal the planet? Do you need access to clean water in Newark? Do you want information about how to nurture and heal your body with plants & dry herbs Do you want to learn how to talk about climate change so people will understand and act? Do you want to learn how to recycle your fashion? Come learn about all this and more in an atmosphere of art, poetry, music and good vibes. Bring a plant for the plant swap.
Bring a friend or two and come recycle the love and have some evening fun .
##
At all our events and workshops we do ask for a $5.00 - $25.00 sliding scale donation at the door for our facilitators and artist so we can keep this type of art open to the public. If you can give please give. If not no one will be turned away. Our events are open to all genders, races, and sexualities.
Supported in part by a grant from NJ Department of State, Division of Travel and Tourism.