NA Sponsored Spotlight Event
Open Doors Kids
Open Doors Studio Tour
Live Performance
Accessible Facility
NA Sponsored Spotlight Event
Open Doors Kids
Open Doors Studio Tour
Visual Arts
Poetry
Film
Live Performance
Accessible Facility

Black & Brown: An Unparalleled Truth
Femme Curator Arts
Thursday, October 10 | 8PM-12AM
Friday, October 11 | 5PM-12PM
Saturday, October 12 | 10AM-12AM
Sunday, October 13 | 12PM-6PM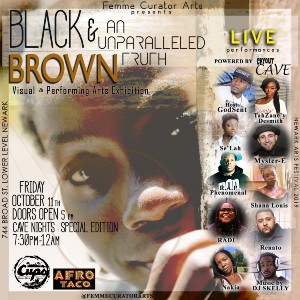 Opening Reception: Thursday, October 8PM-12AM
Closing Reception: Sunday, October 13, 12PM-7PM
Curated by: Kween Moore, Tiffany Bradford, Dayana Poulard, Dana Jackson
Featured Artist(s): Michelle Alexander, Kervin Andre, Josephine Barreiro, Diane Bladecki, La'Sonja Miller-Blakey, Tiffany Bradford, Harry D Bradford, Curtis Grayson, Vaishnavi Kaipilyawar, Monifa Kincaid, Natural Langdon, Elton Leonard, Kween Moore, Kayla Muldrow, Sunah Nash, Amrisa Niranjan, Suliman Onque, Yvonne Onque, Dayana Poulard, Erica Puckett-, Rebecca Radzinski, Roshena Richards, Denise Toney, Antoinette Ellis-Williams, Melanie Winstead, Devynity Wray.
Exhibition Abstract:
This years theme has been an interesting discussion among our professional partners and creatives. Femme Curator Arts wanted to explore a concept that has so much meaning to us all and as well as a personal connection to the participants. This year, we will be introducing fashion to the the FCA Exhibition as an extensive look at culture within the theme. Without giving complete direction on how bodies of works can fit this theme, we encourage you to look inward, within your community, media, social and environmental issues, politics, civil society, the justice system, fair or unjust treatments, immigration, race, gender, sexuality, religion and all ideas considered taboo or overlooked We look to strike the viewer and audience with touching, yet passionately served through incomparable truths using the arts as a voice. Keep in mind, this is not a literal call to action, but an impact using visual and creative arts to discuss the things we personally are affected by, world-wide involving things of Black & Brown. Lastly, please be as creative in expressing what 'Black & Brown' mean to you as an artist of all mediums.
Femme Curator Arts OVERVIEW:
Each and every year for the Newark Arts Festival, Femme Curator Arts has led intense, highly favored exhibitions and creative happenings within one of the most creative cities. For the past few years, our curatorial team has been voted as one of the top 5 locations to visit during the arts festival, hosting 3 exhibitions during the 2018 crawl. Within these live creative exhibits, FCA has partnered with some of Newark's own and spotlighted performers, dancers, musicians and poets. FCA has also partnered with celebrity chefs and eateries exploring what Newark has to offer creatively in every way. During the festival, we intentionally form partnerships with local businesses, organizations and artists in order to keep the community informed of the creatives in their reach. In order to re-create this years successful experience, we will need wall space to hang work, a stage or platform for performers, sound equipment for that specific space, and interns to assist in our calls and set up and breakdowns of each show.
Supported in part by a grant from NJ Department of State, Division of Travel and Tourism.