NA Sponsored Spotlight Event
Open Doors Kids
Open Doors Studio Tour
Live Performance
Accessible Facility
NA Sponsored Spotlight Event
Open Doors Kids
Open Doors Studio Tour
Visual Arts
Poetry
Film
Live Performance
Accessible Facility

Phenomenology
Thursday, October 10 | 07AM-5PM
Friday, October 11 | 07AM-8PM
Saturday, October 12 | 09AM-4PM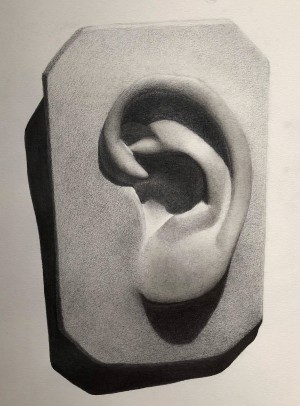 Opening Reception: Friday, October 11, 4PM-8PM
Curated by: Laura Mashtaler
Featured Artist(s): Sharon Adarlo
Sharon Adarlo, local Newark artist and writer, will be showing a small collection of paintings, drawings and sculptures that deal with our sensual perception of the world - phenomenology - via the realistic, artistic rendering of various objects: food, the human body, finely handmade artifacts, etc.
As such, the art pieces range in style and medium, from highly technical oil paintings and drawings done in the mold of the Old Masters, stylized portraits of people, to evocative and mysterious shadow boxes.
Sharon's art emphasizes craft and is clearly rooted in the art tradition of realism, but the pieces on display allow for viewers to bring in their subjective interpretation. Sharon regards each piece of art as mediators between her (un)consciousness and the viewer.
The show will be up for three months starting October 10, 2019.
BIO
Sharon Adarlo is a former crime reporter for The Star-Ledger and The Wall Street Journal. While mostly self taught, Sharon has also studied at the New York Academy of Art, School of Visual Arts and Grand Central Atelier. Her work, while still evolving, is multi-disciplinarian in nature: Sharon works in paintings, drawings, sculpture, furniture, animations, video and experimental music. She lives and works in Newark, New Jersey.
Supported in part by a grant from NJ Department of State, Division of Travel and Tourism.