NA Sponsored Spotlight Event
Open Doors Kids
Open Doors Studio Tour
Live Performance
Accessible Facility
NA Sponsored Spotlight Event
Open Doors Kids
Open Doors Studio Tour
Visual Arts
Poetry
Film
Live Performance
Accessible Facility

The Social Justice Collaboration Quilts Project featuring the Quilts of Angola Prison
Gallery Aferro
Thursday, October 10 | 12PM-6PM
Friday, October 11 | 12PM-6PM
Saturday, October 12 | 12PM-6PM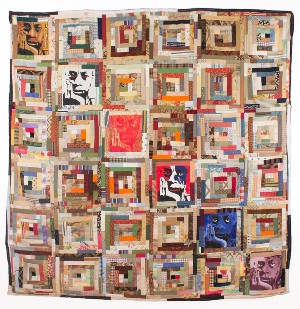 Curated by: Maureen Kelleher
Featured Artist(s): Etienne, Maureen Kelleher, Kenya, Ramsey Orta, Dr. Mutulu Shakur, Sharif, Teresa, Zulu
The Social Justice Collaboration Quilts Project featuring the Quilts of Angola Prison exhibit is a visceral blend of creativity, advocacy and history. Thanks to the hard work of artist and private investigator Maureen Kelleher, this curated collaboration between Louisiana State Penitentiary incarcerated prisoners and free civilians utilizes handmade quilts, musical accompaniment, and experiential narratives to connect two worlds often muted in the name of fear.
Kelleher brings her decades of experience culled from her investigative work, which has been instrumental in helping exonerate 3 men off of Louisiana's death row, to craft a showcase that includes music from artists such as Irma Thomas, Delfeayo Marsalis, and the Venerable Robina Courtin, with an endorsement from the nation's foremost expert on Harriet Tubman, Dr. Kate Clifford-Larson. The original fabric art created by the hands of inspiring artists, including members of the Louisiana State Penitentiary Hospice Program; Dr. Mutulu Shakur, the godfather of Tupac Shakur; and Ramsey Orta, the man who recorded the death of Eric Garner, will grace Aferro's Main Gallery and tap into the humanity in all of us.
Supported in part by a grant from NJ Department of State, Division of Travel and Tourism.