NA Sponsored Spotlight Event
Open Doors Kids
Open Doors Studio Tour
Live Performance
Accessible Facility
NA Sponsored Spotlight Event
Open Doors Kids
Open Doors Studio Tour
Visual Arts
Poetry
Film
Live Performance
Accessible Facility

Youth Poetry Slam Ages 13-20 Cash Prize
The Loud Project
Saturday, October 12 | 1PM-4PM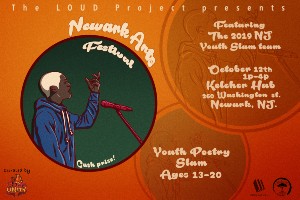 Featured Artist(s): The 2019 NJ Slam Team competed at the international poetry slam Brave New Voices and got 4th in the world. These amazing writers will be showcasing their work as featured performers.
Come out and support the NJ Youth Poetry Movement by joining us for the Youth Poetry Slam Cash Prize for the Newark Arts Festival.
Come witness youth from across New Jersey competing for their chance to be the slam champ. Our grand slam winner will win our artist cash prize along with getting their own chapbook edited by professionals for distribution.
Interested in getting involved in a slam or have a child that is a writer? Want to register? Send a request with your age, school, and number to theloudproject65@gmail.com.
Want to find out more about The New Jersey Youth Slam Movement? Come learn about The Loud Project's school-based partnerships set to build brave spaces, promote literacy, and self-discovery in schools across the city. Get informed about The Newark Poetry Institute that publishes young authors, connects young poets to scholarship money, as well as writing workshops in their community. Meet the folks behind the movement to get connected to resources in our meet and greet pre slam mixer. All educators, parents, community leaders, youth activists, young folks, and creatives come meet us.
What is a poetry slam?
A poetry slam is a competition where poets are critiqued by judges picked from the audience. These judges are instructed to give numerical scores (on a zero to 10 or one to 10 scale) based on the poets' content and performance. Individual poets will compete in multiple rounds with original pieces. The poets with the highest accumulative scores will move onto finals.
Check out our websites: www.theloudprojectnj.com
Venders:
Calling my Future (free books)
Come check out our interactive poetry stations!
Presented by : The Loud Project
Co Sponsored by: EvoluCulture
Supported in part by a grant from NJ Department of State, Division of Travel and Tourism.