NA Sponsored Spotlight Event
Open Doors Kids
Open Doors Studio Tour
Live Performance
Accessible Facility
NA Sponsored Spotlight Event
Open Doors Kids
Open Doors Studio Tour
Visual Arts
Poetry
Film
Live Performance
Accessible Facility

Multi Stage Fall 2019
Cultural Integration and Arts Association
Saturday, October 12 | 3:30PM-7:30PM
Sunday, October 13 | 2PM-7:30PM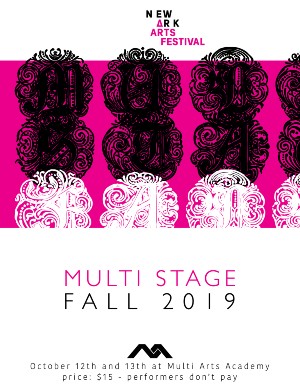 Curated by: Luana Magalhaes
Featured Artist(s): Silas Rosa, Daniel Rofer, Samuel Hast, Luisa Diaz, Brian Munos, Craig Walker, Diego Neira, Joppa Velozo,
Multi Stage is a Fall recital where youth performers get the chance to perform as artists on a stage prepared for them. Spotlights, cameras and great energy is what is expected from these two performance days. You can't miss it
Supported in part by a grant from NJ Department of State, Division of Travel and Tourism.