NA Sponsored Spotlight Event
Open Doors Kids
Open Doors Studio Tour
Live Performance
Accessible Facility
NA Sponsored Spotlight Event
Open Doors Kids
Open Doors Studio Tour
Visual Arts
Poetry
Film
Live Performance
Accessible Facility

"Being Gladys"
Griot Storyteller Media and New Jersey Film Makers' Lab
Saturday, October 12 | 10AM-12PM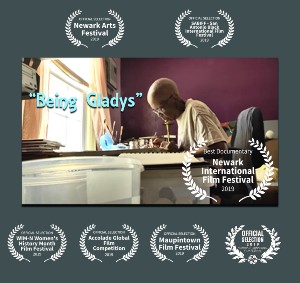 Featured Artist(s): Gladys Grauer, Ralph Patterson, Zelda Patterson
For over seventy years Gladys Barker Grauer has advocated for the poor, the working class and the liberation of herself as a Black woman through the power of her art. Born during The Great Depression and just a mere 60 years after The Emancipation Proclamation, Gladys has evolved as an artist using not only brush and paint, but weavings and found objects to create her art. Despite the odds against her she found the love of her life and despite the odds against her she has spoken truth to power not to create controversy, but to be true to herself. Her example remains a force in the art community. Her story and the story of her determined efforts to sustain the work of Black women artists in Newark and the lives and careers she has touched are told here in: "Being Gladys"
Supported in part by a grant from NJ Department of State, Division of Travel and Tourism.