NA Sponsored Spotlight Event
Open Doors Kids
Open Doors Studio Tour
Live Performance
Accessible Facility
NA Sponsored Spotlight Event
Open Doors Kids
Open Doors Studio Tour
Visual Arts
Poetry
Film
Live Performance
Accessible Facility

Collateral Damage
Friday, October 11 | 6PM-9PM
Sunday, October 13 | 3PM-5PM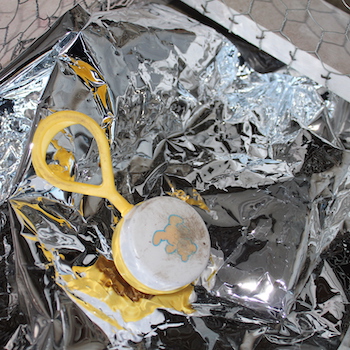 Opening Reception: Friday, October 11, 6PM-9PM
Closing Reception: Sunday, October 13, 3PM-5PM
Curated by: Anne Dushanko Dobek
Featured Artist(s): Anne Dushanko Dobek
Anne Dushanko Dobek is a conceptual artist whose work focuses on environmental and immigration issues. Collateral Damage is part of her larger series "Perilous Journeys," which reference the crossing of borders by immigrants, migrants and refugees. Her work is often installed in remote, challenging and non-traditional sites such as oceans, forests and fields, that invite closer examination of images that provoke lively conversations about the content.
Collateral Damage is a sight-specific installation commenting on the caging of children in detention centers in the United States. The number of children being held, the location of their parents and the physical, emotional and intellectual futures of these children is currently in limbo. The flood lights are always on in these detention centers; regrettably they can't illuminate the future releases of these children.
My goal as an artist is to create works which invite conversations on critical issues in our society.
Supported in part by a grant from NJ Department of State, Division of Travel and Tourism.