NA Sponsored Spotlight Event
Open Doors Kids
Open Doors Studio Tour
Live Performance
Accessible Facility
NA Sponsored Spotlight Event
Open Doors Kids
Open Doors Studio Tour
Visual Arts
Poetry
Film
Live Performance
Accessible Facility

Newark Public Library: Van Buren Branch Library
Saturday, October 12 | 11AM-1PM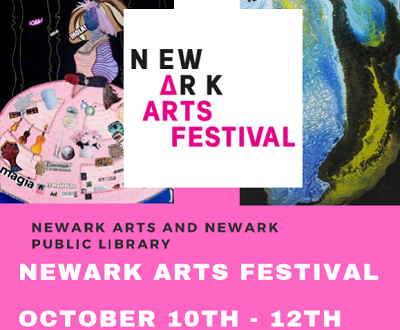 Opening Reception: Saturday, October 12th 11AM-12PM
Curated by: Newark Public Library
Featured Artist(s): Janhavi Firke, Dalia Berlin, Eva Kitok, Donelda Lyizoba
Programs:
Art Reception
11AM-12PM
Art reception with light breakfast refreshments served.
Family Art Program
12PM- 1PM
Families are invited to participate in creating a free art project. All ages.
Music Together
1PM-2PM
Children 0-5yrs old are invited to participate in a free music and dance program presented by NJPAC.
Supported in part by a grant from NJ Department of State, Division of Travel and Tourism.