NA Sponsored Spotlight Event
Open Doors Kids
Open Doors Studio Tour
Live Performance
Accessible Facility
NA Sponsored Spotlight Event
Open Doors Kids
Open Doors Studio Tour
Visual Arts
Poetry
Film
Live Performance
Accessible Facility

NEXT STOP ART | Creative Community Pop-Up
Urban Essex Coalition for Smart Growth & Pink Dragon Artist Syndicate
Saturday, October 12 | 1PM-5PM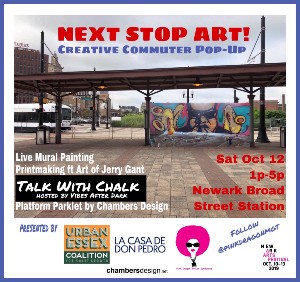 Featured Artist(s): Steve Green, Elijah Minton, Jerry Gant
NEXT STOP ART is a hands on community arts event where families, friends, neighbors, and commuters who use Newark Broad Street Station can enjoy stimulating art from several local artists and entrepreneurs. The day will feature live painting "Cellophane Murals" by Steve Green and Elijah Minton, friends of Pink Dragon Artist Syndicate; "Chalk Talk" an interactive arts project hosted/curated by Vibes After Dark, where community members make their voices heard through the use of chalk art; on the spot screen printing workshop and giveaway with the Newark Print Shop, featuring artwork designed for NJ Transit, by the late Newark artist Jerry Gant; and a "Platform Parklet" by Chambers Design.
NEXT STOP ART is a collaboration between several Urban Essex Coalition for Smart Growth ("UEC") members including NJ Transit, the City of Newark, ‪La Casa de Don Pedro‬, Pink Dragon Artist Syndicate and is funded in part by Newark Arts ArtStart Grant Program.
Supported in part by a grant from NJ Department of State, Division of Travel and Tourism.