NA Sponsored Spotlight Event
Open Doors Kids
Open Doors Studio Tour
Live Performance
Accessible Facility
NA Sponsored Spotlight Event
Open Doors Kids
Open Doors Studio Tour
Visual Arts
Poetry
Film
Live Performance
Accessible Facility

Energetic Healing from a Jewelry Perspective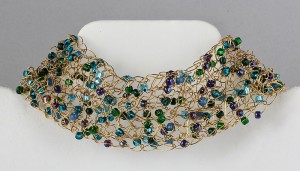 Curated by: Leslie Hernandez
Featured Artist(s): Juanita Martin
This exhibition will take you through the thorough process of cleansing stagnant energy from handmade pieces and infusing it with love using Reiki as part of the process. This extended process works with various holistic healing modalities. The Artist and Energy Coach, Juanita Martin of Nitjuan Designs uses this exhibition to walk us through this process which can be duplicated or adapted to create your own process of clearing and infusing positive vibes into your work.
This exhibition is curated by Leslie Hernandez of I'm So Yoga Newark. What is the purpose of using a Crystal Sound Bowl, Sage, Palo Santo and/or Selenite to infuse loving energies into each piece before it makes its way to the public? What role does Reiki play in this scenario? These and many other questions will be answered during this exhibition.
Supported in part by a grant from NJ Department of State, Division of Travel and Tourism.