Diegumberrto's new mural Red Bull in the Ironbound
A deeper commitment to the communities The New York Red Bulls call home. Check out Diegumberrto's new mural in the Ironbound on the corner of Market Street and Jackson Street! Created in partnership with Newark Arts, Greater Newark Convention and Visitors Bureau, and Ironbound Business Improvement District!
Elijah Milton's Red Bull Arena Mural
The New York Red Bulls, along with Horizon Blue Cross Blue Shield of New Jersey and Newark Arts, today unveiled a mural that will be located at Horizon Gate on the concourse level of Red Bull Arena. 
The mural, painted by Essex County-based artist Elijah Minton, was designed to represent the Red Bulls loyal supporters, fans, culture, energy and passion for the game of soccer from our neighborhoods to the walls of Red Bull Arena. The goals of the mural reflect the attitudes and essence that connect and celebrate the key surrounding communities. The mural will proudly be on display and serve as one of the first touch points for fan's match day experience.
I am truly grateful for this experience. Painting at Red Bulls arena after designing a poster for them earlier last year was like having a dream come true. The Red Bulls were great to work with and the Horizon [team] had some great ideas when editing the original design. I am most grateful for the fact that the Red Bulls did not alter my design and respected the artistic integrity of my design. I truly enjoyed the experience and look forward to working with them again.
"STRONGER TOGETHER" Mural
A multi-façade mural project by Newark artist, Yasmin De Jesus, and defenseman for the New Jersey Devils and Red Bull Athlete, P.K. Subban at the Sharpe James Kenneth A. Gibson Recreation & Aquatic Center.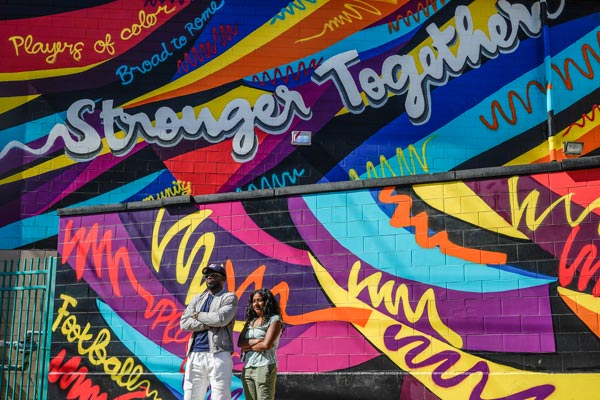 This was so amazing! It was great not only actually being behind the scenes to watch this project come to fruition, but now to actually see the documentary and relive everything and to see how this is presented to the world! It has truly been a blessing to see. These beautiful murals have touched so many lives in this community, and I am sure they will continue to do so for years to come! It was such an honor to be a part of this and I'm so happy you all chose our center! Thank you so much to Yasmin, and to Matthew and Malcolm, who I would see outside the center late nights seven days a week helping to get the job done! Thank you PK! Thank you Rebecca!
What is NEWARK ARTSOURCE?
For more than three decades Newark Arts has served as an umbrella organization for Newark, New Jersey's arts communities. Representing hundreds of artists and more than 80 arts organizations, Newark Arts is a strategic partner on "creative placemaking" that spurs economic opportunities in the city.
Through Newark ArtSource, Newark Arts brokers relationships, connecting local artists and their work to major development projects throughout the City. With some $4 billion in development in the city, Newark Arts serves as an intermediary for developers that are building new buildings or revitalizing old structures and want their spaces to reflect local culture.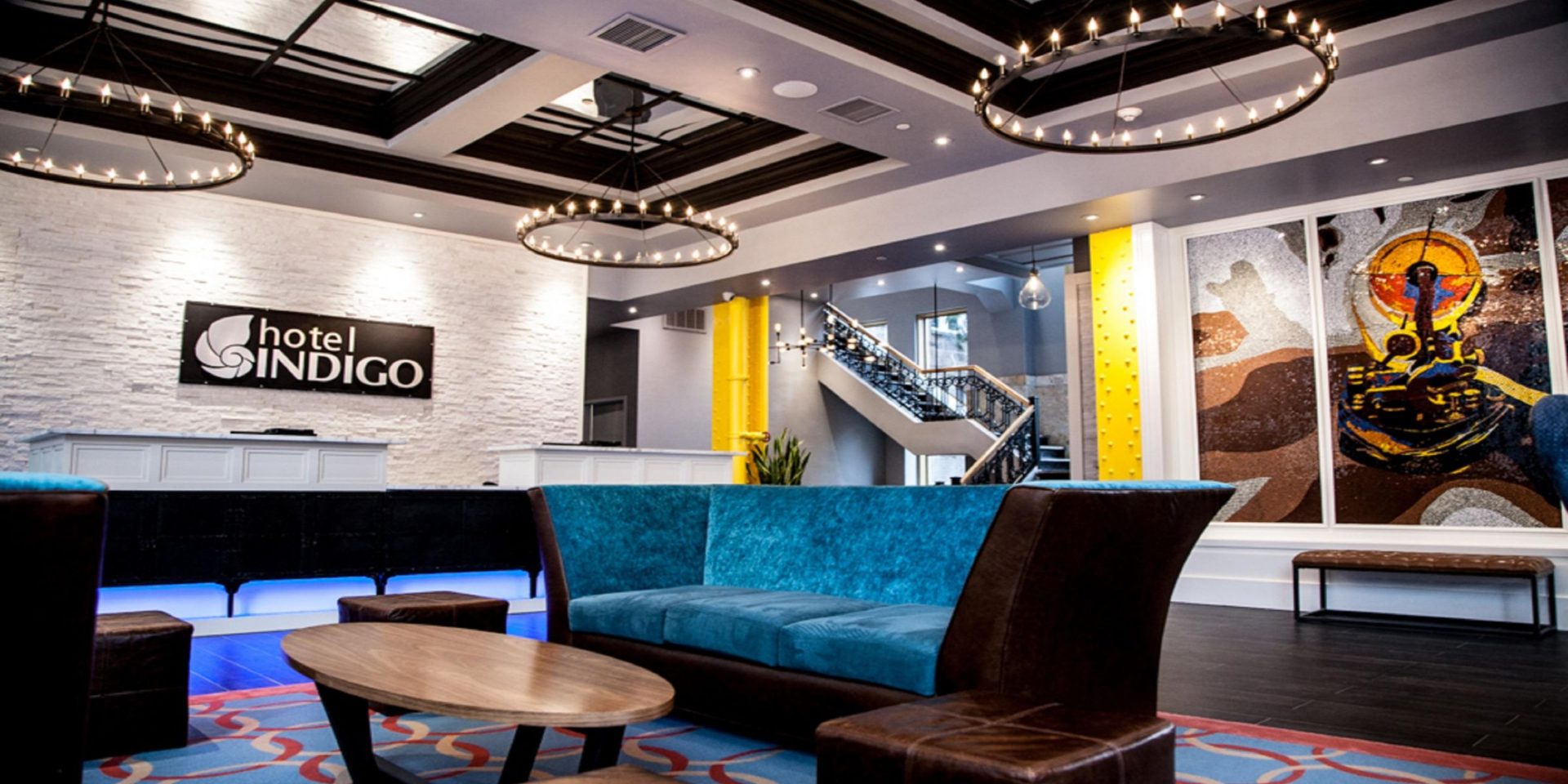 We consulted with Newark Arts on the artistic vision for the Indigo Hotel. We get compliments on our artwork all the time and wouldn't hesitate to work with them again.
Act as liaison to local art community

Manage installations for new development and revitalized buildings

Provide arts development and programming for public spaces
Develop and curate pop-up galleries

Access to internationally, nationally, regionally and locally renowned curatorial advisers
Working with Newark Arts to enhance our senior facilities with art was an absolute pleasure and the results were more than we expected. I would highly recommend them to lead your next art project.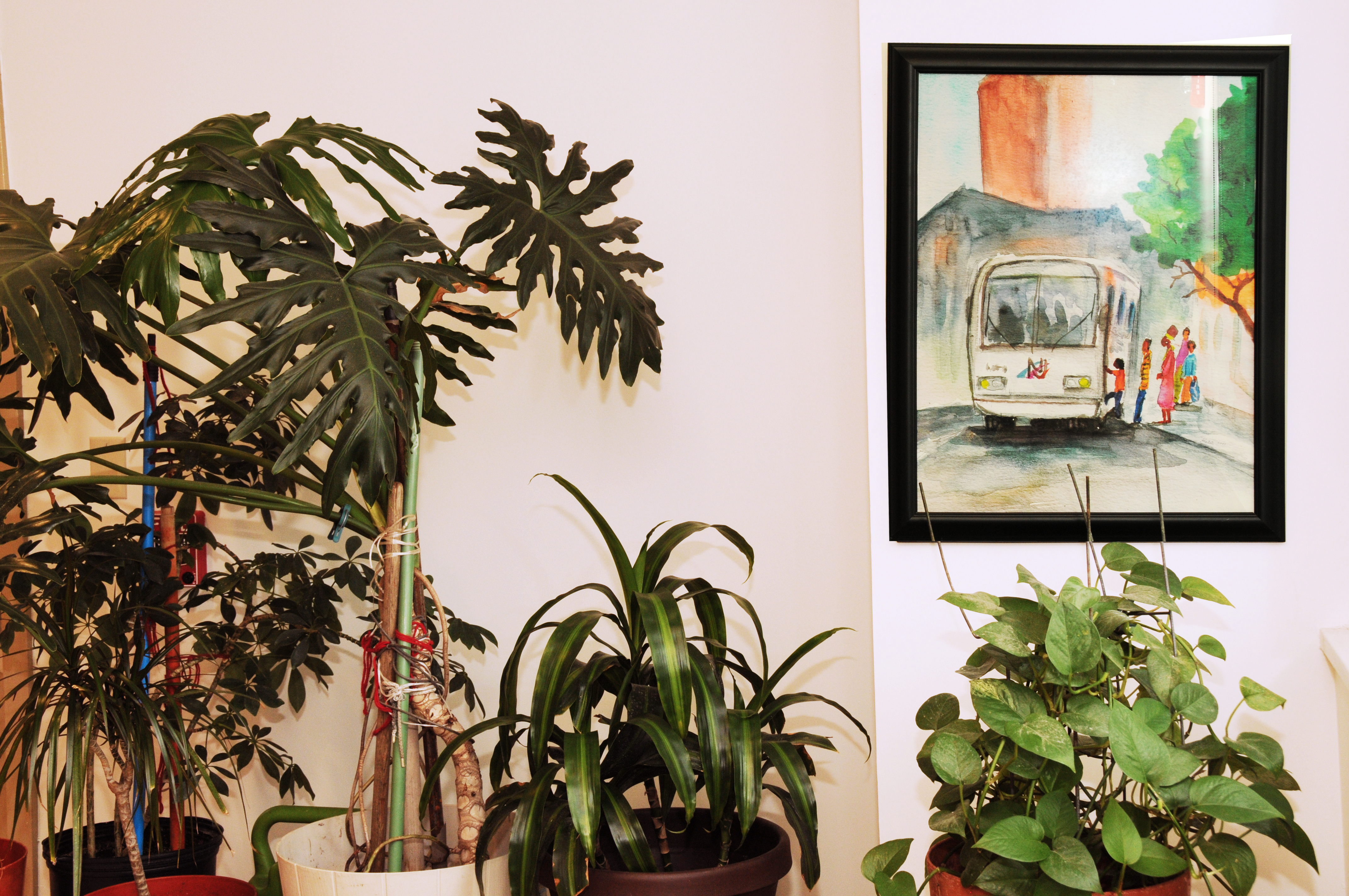 NEWARK ARTSOURCE IN ACTION
→ Commissioning Artists
Newark Arts was the artist liaison for Barclay's partner Per Scholas, an IT tech training organization that is new to Newark.
Working with Newark Arts was one of the highlights of opening our new office in Newark. They listened to our vision and seamlessly facilitated the process of choosing an artist. We couldn't be happier with the result – the murals by artist Kern Bruce are the heart of our new space, and are loved not just by our Newark team, but across the organization.
→ Beautifying Newark's neighborhoods
Newark Arts brought together children from two arts organizations to brighten the PSEG Federal Square Switching Station with mosaics.
Four Corners Public Arts is an ongoing collaboration between the City via Invest Newark, the Newark Downtown District (NDD), Newark Arts and local property owners RBH Group and Paramount Asset that advocates for impact-driven, public art initiatives in and surrounding Broad St. and Market St. in Downtown Newark.
→ Infusing New Builds with Local Art
Newark Arts helped the Indigo Hotel in its selection of local muralists when it built a boutique hotel on Broad Street
"*" indicates required fields
NEWARK ARTSOURCE ACTIVATIONS
The Hope Box Mural Project
The Hope Box Mural Project in collaboration with LaMonica McIver Civic Association, Newark Arts and Femme Curator Arts. Four women artists, Kween Moore, Dayana Poulard, Yvonne Onque and Sunah Nash, painted large electrical boxes (that were former eyesores) in the Central Ward, as part of a community clean up project. The locations are: Norfolk St. & South Orange Ave, Clinton Ave & MLK Blvd, Springfield ave & Bergen St, Muhammad Ali ave & Irvine Turner Blvd.
Washington Park Community Art Day
Audible Inc. and Newark Arts hosted Community Art Day in Washington Park on July 25th, 2019. The community and Audible Employees joined professional artists from Newark to add their own artistic touch to the new Washington Park Sensory Lab, a multisensory outdoor installation that includes new seating areas, planters, tables and solar lighting.
This 10 x 20′ anodized aluminum wall relief was installed on the newly restored Bell Telephone building in downtown Newark, designed by Ralph Walker in 1929.  The artwork references decorative elements from this Art Deco landmark, and was backlit when installed on the limestone facade of the building.
Jonathan Rose Companies senior citizen art projects