Change a life today through art.
A LETTER FROM OUR EXECUTIVE DIRECTOR
Why I Still Have Hope
Dear Friend,
My eyes welled up recently as I watched nine-year-old Jaziah Bryant, pounding out the notes to the tune "Simple Gifts."
A resident of Newark's Pennington public housing complex, is a student of the nonprofit Keys to Success.  As a pianist myself, I was moved by her persistency.  She persisted as her earnest instructors were forced to teach from behind a computer screen.  Simple gifts, indeed.  I was proud that Newark Arts made an ArtStart grant to Keys to Success to inspire youth at Pennington.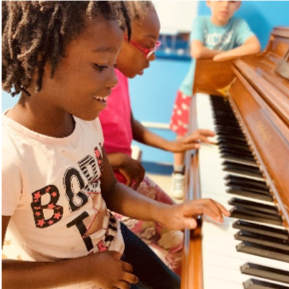 Bryant enjoys a pre-COVID moment at the piano
I got teary again when I saw the quilted faces of Bisa Butler's "The Warmth of Other Sons," a powerful interpretation of the Great Migration.
The work is at the free www.NewarkArtsFestival.com/virtualgallery, which Newark Arts created in partnership with The Newark Museum of Art. Next to Bisa's piece were 19 works by amazing artists, mostly local, each telling a compelling story—of immigration, justice and triumph over adversity.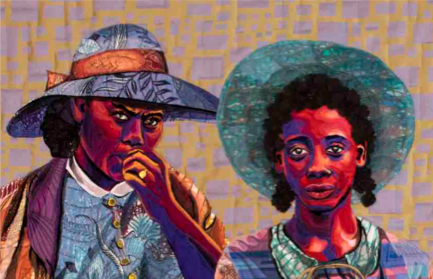 Detail from Bisa Butler's quilted "The Warmth of Other Sons," 2020
I share these stories to let you know there is hope. Hope that the arts can amplify the voices and issues that move us as a city, as a society.Before COVID-19, we could count on the arts—they drove millions of dollars' worth of jobs and education activity to our local economy. Even as the pandemic has ground many arts activities to a halt, Newark Arts is powering forth.
I promise that we'll continue to make ArtStart grants for girls like Jaziah. We'll fight for platforms like the Newark Arts Festival that lift up justice through the lens of artists and creatives.
Thank you for your past support. During this season of giving, if you can, please chip in to help Newark Arts invest in others during this difficult time. Your gift, no matter the size, provides hope that we can still make a difference through the arts.
Best wishes for safe and hope-filled holidays.

Jeremy V. Johnson
Executive Director
NEWARK ARTS – Powering the arts to transform lives
Matching Gifts: The easiest way to increase the impact of your support of Newark Arts!
What if you could double or triple the amount of your support Newark Arts in less than 10 minutes and do so at no additional cost to you?
Today more and more corporations such as Prudential, ExxonMobil, IBM, Pfizer, PSEG, Verizon, American Express and Chubb are supporting causes their employees care about through the use of matching gifts.
These businesses and many others participate in philanthropic giving by matching employees' contributions at a 1:1 dollars ratio.
Matching gifts are unrestricted in nature and are in most cases used to help offset the cost of day to day operations. It doesn't matter if you're working in the U.S. or abroad – if your company has a Matching Gifts program, your contributions to the station regardless of where they are made will most likely eligible.
Matching gift forms are normally available from your HR representative though some companies will ask that you take to a few minutes to complete an on-line application.
Your matching gift requests will then be submitted directly through your HR department who will contact us for verification or you'll be advised to mail it to Newark Arts. Once we confirm that a donation has been paid, a check is sent to Newark Arts that matches your contribution based on payment guidelines.
In just a few minutes you can easily turn $25 into $50; $100 to $200 and a $1200 contribution into $2,400 or more!
And remember – many corporations also match gifts made by retirees and spouses of employees!